Lawrence Meats - Quality Pork Sausages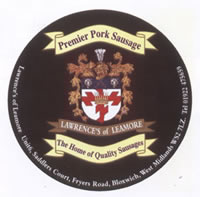 Lawrences of Leamore
Unit 6, Saddlers Court, Fryers Road,
Bloxwich, West Midlands WS2 7LZ
Tel: 01922 475659 Fax: 01922 479861
Email: enquiries@lawrencemeats.co.uk
Back in 1932 Emmanuel Lawrence started his Butchers Shop in Leamore. His passion for locally reared stock gave him the quality he needed to follow his food from gate to plate, giving his customers only the finest quality food. As years moved on and demand grew, the war years over, his two sons, Sydney and Malcolm carried on his good work linking bonds with a local abattoir, Westwood's in Great Wyrley, on sourcing the quality meat they required from local farms.

In 1971 Emmanuel's grandson Tony joined the firm to carry on all his good work. As the range of sausages and awards grew, a decision was made to build a purpose built factory to meet the new hygiene regulations and demand for these great sausages.

After 70 years the recipes and the all important secret ingredients are still being used to achieve the quality and flavour needed for these premier sausages.

Today, the passion for quality, and gate to plate sourcing is still at the top of his grandson's priorities, along with his dedicated team to help him achieve the quality his grandfather set.